The Del Fantasma series from Aspen Mountain Press is a multi-author series centered around a paranormal bar, the Del Fantasma. Cody, the vampire owner and chief bartender of the Del Fantasma has quite a way with matchmaking beverages.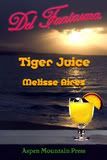 Widow Letha Reicher flees a repressive religious community on the northern
prairies, where she lived under the suspicion of having demon blood.


Jagger comes from a tight knit clan of white tiger shifters, but he
left the family entertainment business to run a contracting business.


When the Storm of the Century approaches Vista Loma, Cody once again works his magic.